Special offers
01.12.2017, December 2017 special offer

Latest news
12.12.2017, MRS Fall Meeting and Exhibit 2017
NT-MDT Spectrum Instruments proudly exhibited at the recent MRS Fall Meeting & Events 2017. The Conference took place at the Hynes Convention Centre, Boston MA in which NT-MDT SI Exhibited at Booth Number 523-525.The conference is organised by Materials Research Society with the aim to provide international forums for the presenting the scientific results in the field of materials by scientists, acadamians, industries as well as regional and international. The MRS Meetings provide the opportunity to promote collaboration and cooperation between scientists and academia. At this event we saw World-Class speakers deliver very interesting talks, workshops take place and poster awards been presented.
Mr Oleg Butyaev Sales Manager responsible for the US Market along with our other technical experts were available throughout this conference to meet with Scientists and Academia that travelled many miles to attend the MRS Fall Meeting & Exhibit 2017. Onsite demonstrations took place where attendees were able to bring samples and we could deliver results in real time. Presented at the booth was our NEXT II system which is easy to use technology enabling multiple AFM/STM capabilities and delivering world class performance.
NT-MDT SI would like to invite you to visit our company website for more information on our unique systems by following this link http://www.ntmdt-si.com/automated-afm/atomic-force-microscope-next
To find out more information about upcoming webinars and events please go to http://www.ntmdt-si.com/
06.11.2017, Webinar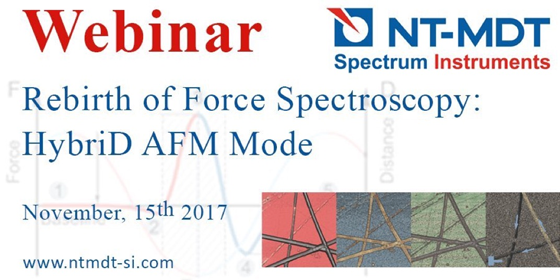 Rebirth of Force Spectroscopy: HybriD AFM Mode
NT-MDT S.I. is happy to present a new group of AFM and AFM-Optical combined modes based on fast force spectroscopy – HybriD mode (HD mode). Combination of the fast force spectroscopy with cutting-edge AFM and optical techniques opens-up absolutely new opportunities of AFM equipment.
In this webinar we will show the advantages of HD mode for fast quantitative nanomechanical and topography measurements, non-destructive conductive, piezoelectric, thermoelectric and thermal studies, cantilever-type TERS and scattering SNOM.
The webinar will take place on Wednesday, 15th of November 2017 8:00 AM – 9:00 AM PST
Please check your time zone at the registration page!
19.10.2017, NT-MDT Spectrum Instruments is happy to invite you to take part in AFM Image Contest - 2017!


Dear Friends,
NT-MDT Spectrum Instruments is delighted to announce AFM Image Contest 2017!
We would like to invite you to take part in our contest, share your beautiful results within the community and get valuable prizes!
First Prize: Exclusive set* of 50 AFM Probes compiled according to your needs. Winner image will also be promoted on the upcoming International Exhibition "The fascination of NanoWorld" being held on 2nd – 16th of December in Venice.
Second Prize: Exclusive set* of 30 AFM Probes compiled according to your needs
Third Prize: Exclusive set* of 15 AFM Probes compiled according to your needs
All participants will receive a personal 10% discount** to use for purchases on our online AFM Probes Shop www.ntmdt-tips.com
The Chosen images will also be used in the NT-MDT Spectrum Instruments Calendar 2019!
If you would like to take part in this Contest please follow these simple steps: