Special offers
03.07.2017, July 2017 special offer

Latest news
22.05.2017, NT-MDT SI Participate at INTERMAG 2017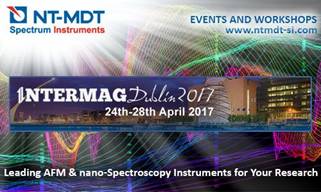 NT-MDT Spectrum Instruments recently exhibited at INTERMAG 2017 conference which took place in Dublin, Ireland, April 14th - 28th 2017. INTERMAG 2017 took place at The Convention Centre Dublin (The CCD), Irelands first purpose-built convention centre located in Spencer Dock in the heart of Dublin city.
INTERMAG is a premier conference on all aspects of applied magnetism and provides a range of oral and poster presentations, invited talks and symposia, a tutorial session, and exhibits reviewing the latest developments in magnetism.
Throughout the conference Dr Sergey Lemeshko Sales Manager responsible for the Irish Market performed live demonstrations on the Solver Nano delivering results in real time.
The Solver Nano is the best choice for Scientists who require a single instrument that is robust, user-friendly and a professional tool. Solver Nano has been specifically designed by our experts for easy use to allow teachers to educate the next generation of researchers in nanoscience by means of thorough hands-on training in all important nanotechnology areas. Please visit our website for more information http://www.ntmdt-si.com/
NT-MDT Spectrum Instruments would like to sincerely thank all those that visited us at Booth # 21 we look forward to meeting you at future NT-MDT Spectrum Instruments Workshops & Events.
17.05.2017, NT-MDT Spectrum Instruments traditionally supports the International Scanning Probe Microscopy conference
NT-MDT Spectrum Instruments traditionally supports the International Scanning Probe Microscopy conference, which is the 19th this year and takes place in Kyoto, Japan.
ISPM conferences provide an ideal occasion to present novel discoveries in theory, instrumentation and application of scanning probe microscopes. During the conference NT-MDT SI presents a new approach for compositional study of topography and electro-mechanical properties of soft and fragile samples. The new AFM mode named HybriD Piezoresponse Force Microscopy (HD PFM) allows simultaneous nondestructive investigation of surface morphology, mapping of quantitative nanomechanical properties and domain morphology of piezoelectrics and ferroelectrics.
We are glad to discuss the new HD PFM and other products at the booth till May 19th or via info@ntmdt-si.com any time.
19.04.2017, NT-MDT SI spring activities in Europe and USA
Last month NT-MDT Spectrum Instruments participated several specialized conferences and exhibitions around Europe and USA.
Some of them are:
Lednice SPM Workshop in Česká republika;
Graphene Conference in Barcelona;
Sondes Locales SPM forum in Mountpellier France;
4th Annual Conference on Optical NanoSpectroscopy in Lisbon, Portugal;
SI DPG in Dresden, Deutschland;
APS in New Orleans, LA
NT-MDT SI demonstrated the modern solutions for Scanning Probe Microscopy and ran life demonstrations and sample measurements on the TITANIUM, SOLVER Nano and the NTEGRA systems. The reports and presentations of various applications in AFM / QNM / SNOM / AFM-Raman / TERS and IR s-SNOM modes were also introduced while the workshops.
We would like to appreciate all the visitors coming to our booths worldwide for your attention and the interest to our products and innovations. We are happy to provide scientific researches with the most complete and up to date instrumentation and support.
See you on the upcoming events!